One Piece is a cult action anime series, with many attractive fight scenes that are equally funny. Besides, One Piece also has many super cute couples voted by many fans. Let's find out who those couples are through the article below!
1. Usopp – Kaya
Usopp has a very recognizable face with curly black hair, has a face like his father and a long nose from his mother. Since childhood, he liked to lie, the person Usopp was very shy, sentimental, easy to cry, but when wearing the Sogeking mask, Usopp had a strong will to fight. In addition, Usopp is a top marksman with only a slingshot.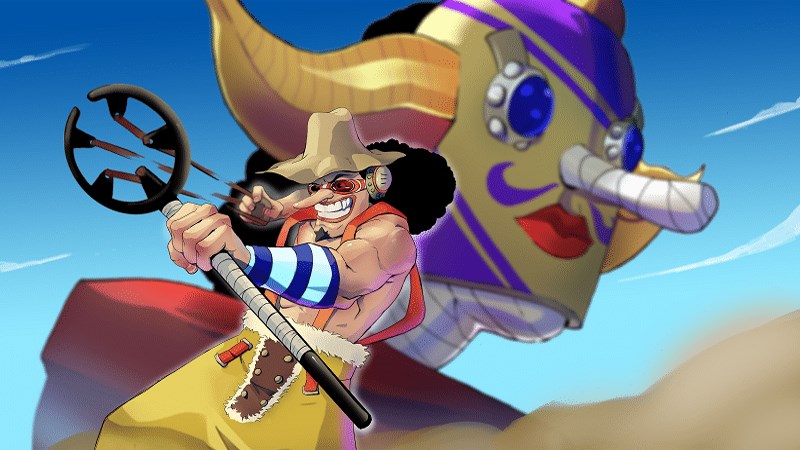 Usopp
Kaya is a young girl, living in the largest mansion in Syrup village, she is Usopp's best friend and is studying to become a doctor. Kaya has a weak body, is very sensitive and always resists violence, she is always interested in helping people. Besides, Kaya is very carefree and very trusting of others.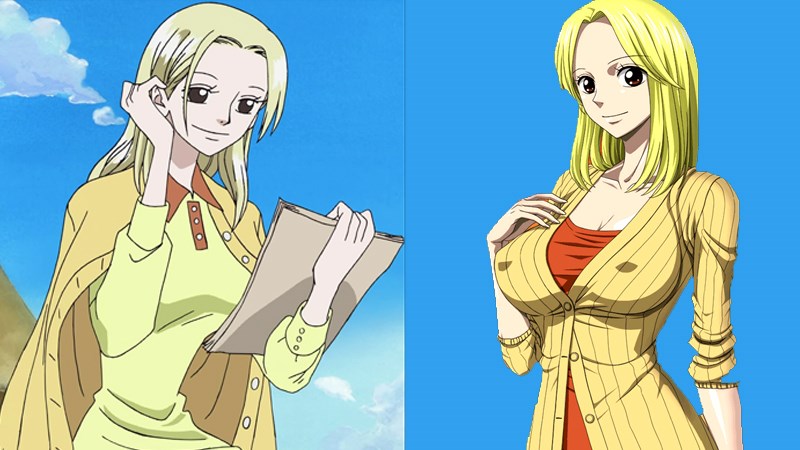 Kaya
Usopp and Kaya are very close friends since childhood, Usopp always makes up stories of adventures to tell Kaya. And it was that untrue story that helped Kaya regain faith in life. Kaya has ignored many boys who want to know her and in the medical book she researched there is a picture of Usopp, also Usopp, the guy who doesn't want to give up the Going Merry even though the ship is very damaged. heavy, because this is a gift from Kaya. The above points show that Kaya and Usopp both have feelings for each other.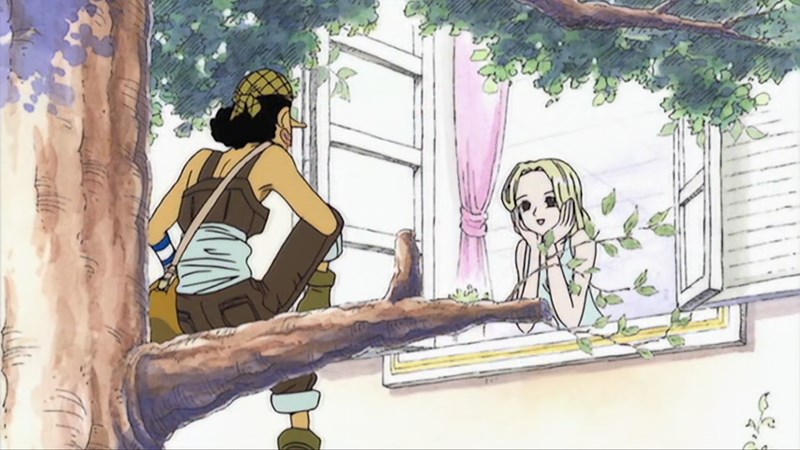 Kaya – Usopp
2. Leo – Mansherry
Warrior Leo is a dwarf from the kingdom of Tontatta and the leader of the Tonta Legion. Leo is very small, has a large tail and a pointed nose. He has long brown hair and wears a green hat that resembles a crown. Leo has a warrior personality, always strictly following the laws of the kingdom. In addition, Leo is extremely gullible, has great physical strength, is extremely agile, and has the ability to grow any kind of tree.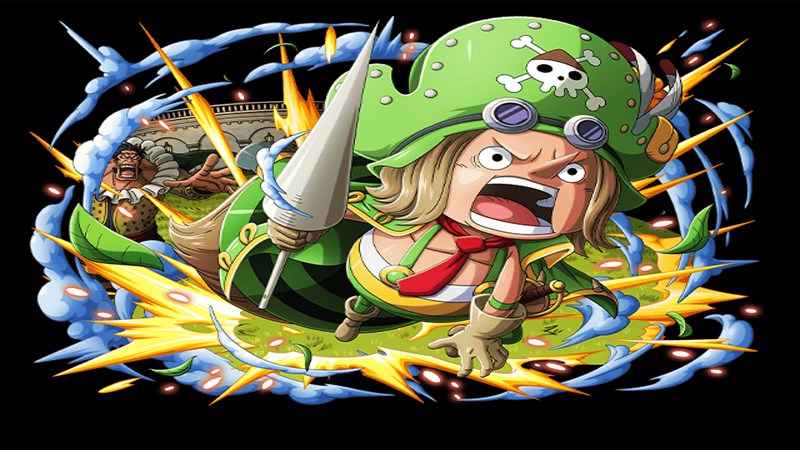 climb
Like Leo, Mansherry is a dwarf and princess of the kingdom of Tontatta. Mansherry has thick, wavy blonde hair. She wears a white mini skirt with matching stockings and shoes. Her eyes are light blue. Mansherry is very benevolent and kind, extremely fast and powerful.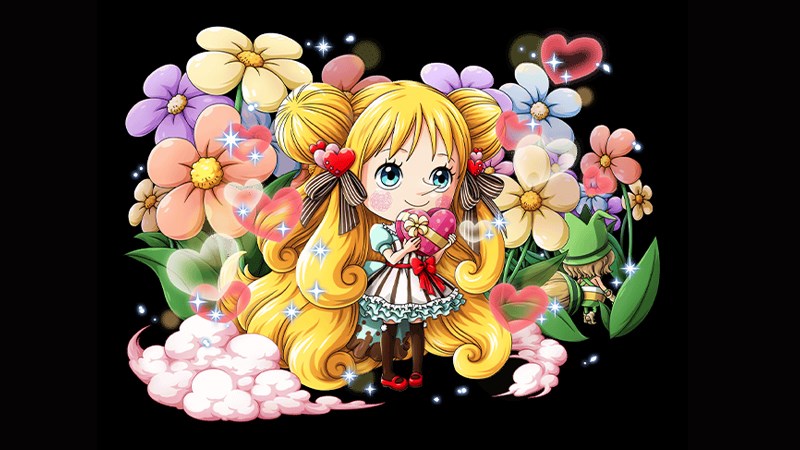 Mancherry
Princess Mansherry likes Leo even though Leo himself is not aware of it. Leo considers her selfish, mean, capricious, and short-tempered. However, this is just a misunderstanding on Leo's part, the reason for Leo's misunderstanding is that Mansherry loves him very much. She happily reacts when he saves her, even blushing when he is caught.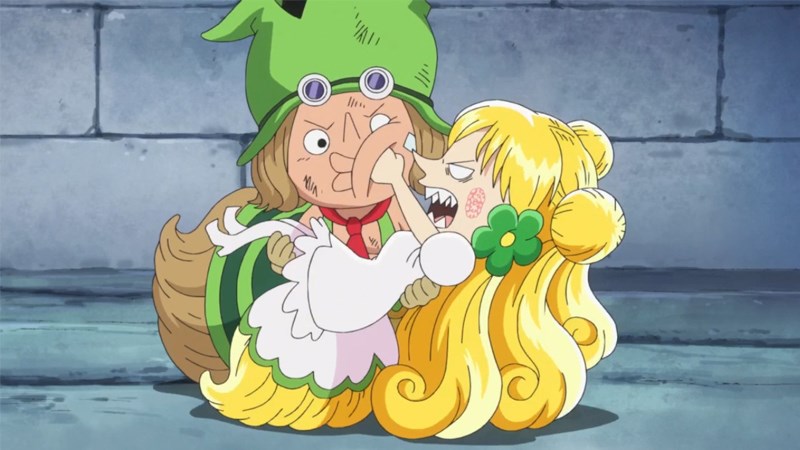 Leo – Mancherry
3. Sanji – Pudding
Sanji is the chef of the Straw Hat Pirates , a long-legged man with blond hair combed to the side of his face. Besides, his distinctive eyebrows, both form a spiral but at different ends. His dream is to find the rumored All blue chef's paradise along with their wildlife. He is one of the top four warriors of the Straw Hat Pirates.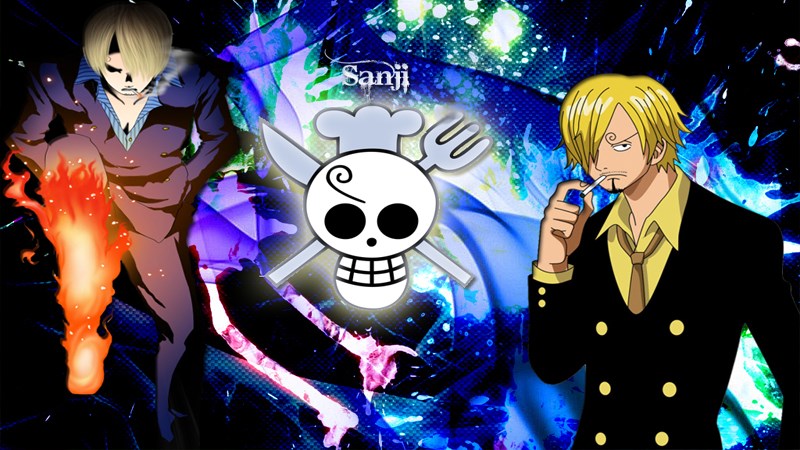 Sanji
Charlotte Pudding is an officer of the Big Mom Pirates and is a hybrid between a human and a member of the Three-Eyed Tribe. Pudding is a young girl with a round appearance with round red brown eyes and prominent lips, she has light brown hair and she has a distinctive third eye on her forehead. Pudding is very shy, sensitive and fearful. She has always felt self-deprecating because of her third eye, she was mocked by children in her childhood, and her mother's malicious words.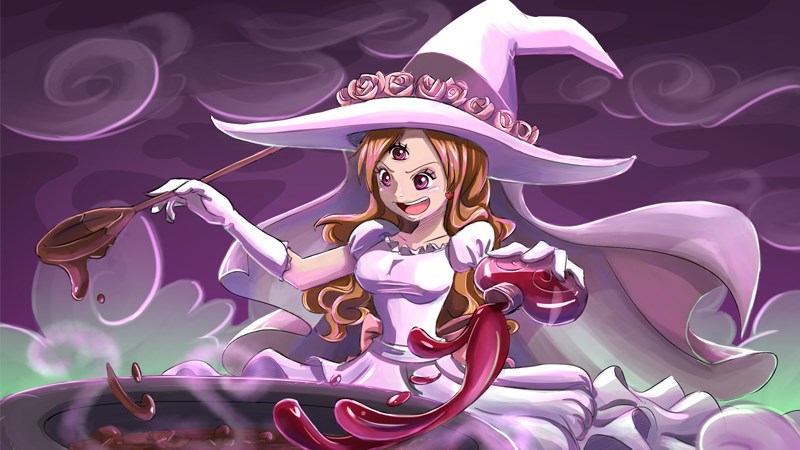 Pudding
While on Cake Island, Sanji almost got married when he married Charlotte Pudding, but that was Big Mom's intention. Pudding from a haughty girl who hates Sanji is now infatuated with him, as evidenced by the fact that she created the world's best cream cake to stop Big Mom's food frenzy to save Sanji. Besides, Sanji also loves Pudding very much because until now Pudding has always been hated because of her third eye, only Sanji honestly complimented her eye on it's beauty.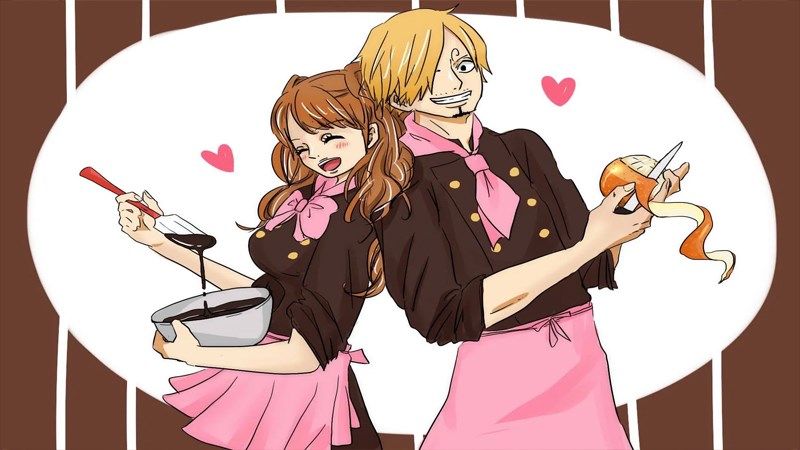 Sanji – Pudding
4. Gotti – Lola
Gotti is an assassin in the Fire Tank Pirates and a temporary ally of the Straw Hats during the Battle of Cake Island. Gotti has the appearance of a very large man with long light purple hair on the sides and beard, although the top of his head is bald. He wears a black vest with a white suit underneath, with a large green cape on top. Gotti is a hot-tempered man who behaves very violently towards those who do not respect the members of his crew.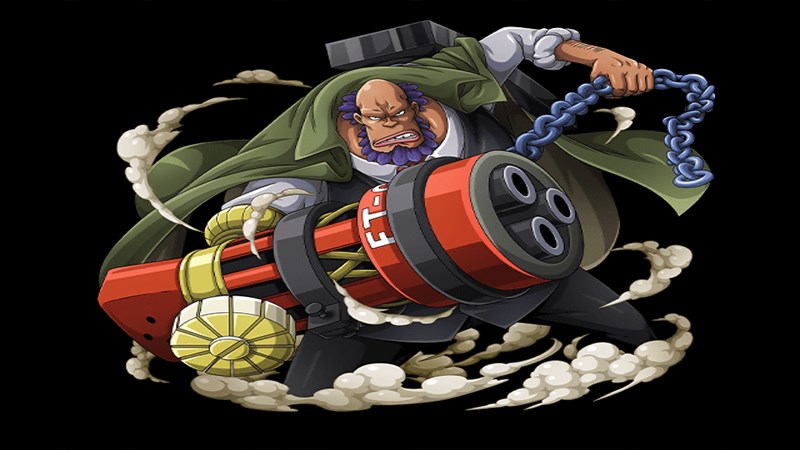 Gotti
Charlotte Lola is the captain of the Rolling Pirates and Chiffon 's twin sister . Lola is a tall, stout woman with short, thin legs. She has small eyes and a high nose on her large and glossy red lips. Lola is a woman who has struggled in marriages, she also has a cheerful and lucky personality, optimistic and naive, but also quite tough.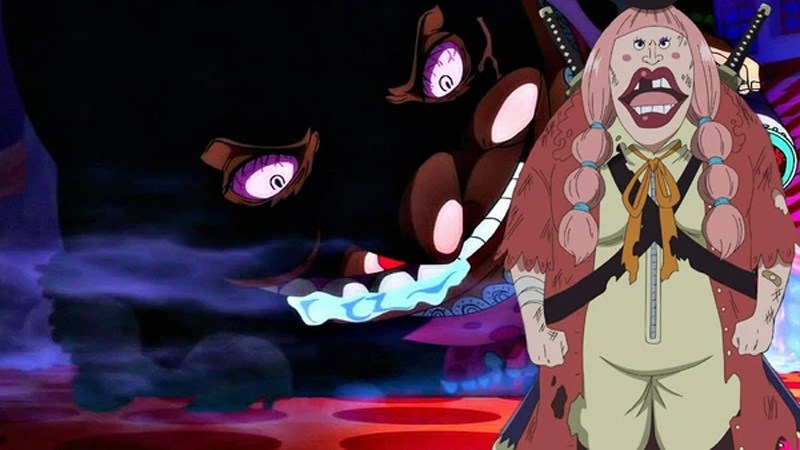 Lola
During Chiffon's journey to find Lola, Gotti accidentally met Lola because he thought Lola was Chiffon. In a critical situation, Gotti saved Lola from the Marines and Lola thanked him by giving him a kiss. Later, Lola approached Gotti and once again proposed to him.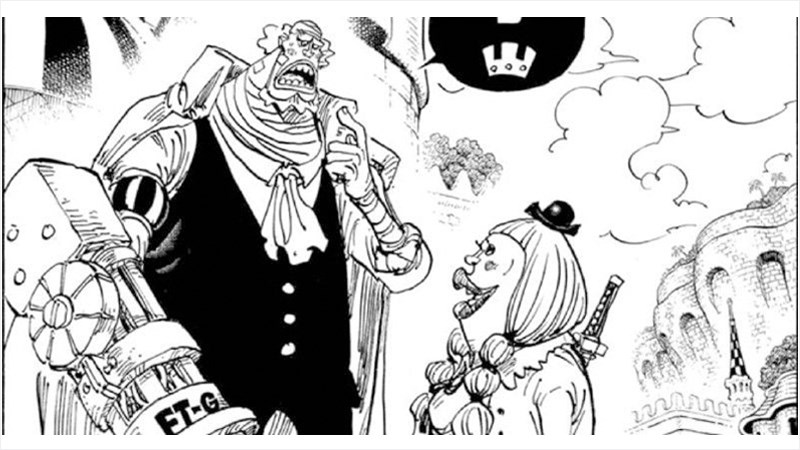 Gotti – Lola
5. Sabo – Koala
Sabo is the chief of staff and works with Monkey D. Dragon. Raised in a noble family but he always wanted to become a pirate and write a book about his journey. He has round eyes, a missing tooth and short curly blond hair, is tall and muscular along with a more pronounced proportionate face and a scar he has on his left eye. Sabo always wears a large black hat with a pair of blue goggles wrapped around it.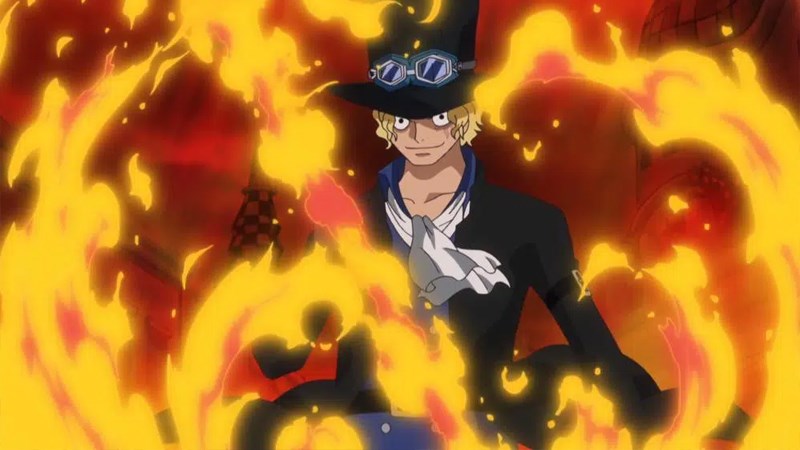 Sabo
Koala was a member of the revolutionary army and a senior officer who worked with Sabo. She has auburn hair and distinctive big round eyes, wears a crimson cap with yellow goggles, a pink ruffled collared shirt, a maroon mini skirt and high socks. Black thigh with brown high heel boots.
Koala
The two of them were very friendly with each other, Koala was very worried for Sabo's safety, she might get angry at him from time to time, but Koala cried thinking he was leaving the Revolutionaries. She often scolds Sabo for his selfish attitude regarding disobeying orders. The above points show that Sabo and Koala are very close to each other.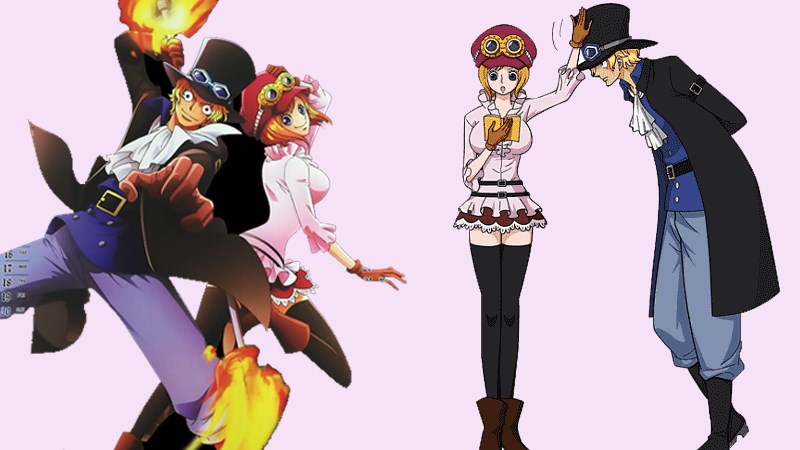 Sabo – Koala
6. Monkey D. Luffy – Boa Hancock
Monkey D. Luffy  , also known as  "Straw Hat Luffy"  and commonly known as  "Straw Hat" . He is the founder and captain of the increasingly infamous and powerful Straw Hat Pirates, as well as one of the pirates' leading fighters. His lifelong dream is to become the Pirate King by finding the legendary treasure. Luffy is the son of Monkey D. Dragon, grandson of Monkey D. Garp. Luffy has fought against many global forces around him, these actions, among others, have earned him his current bounty of 1,500,000,000 Beli.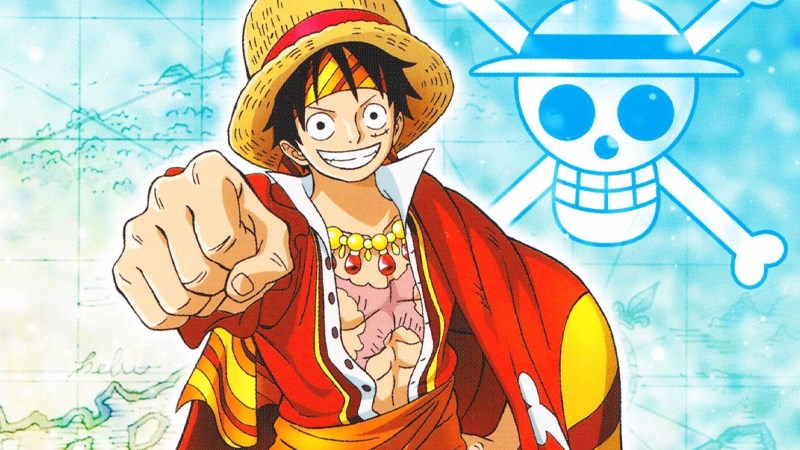 Luffy
Boa Hancock was the captain of the Kuja Pirates and the only female Shichibukai before the organization disbanded. She is the current queen, known as the  "Snake Princess" , of the Amazon Lyli and rules over the Kuja tribe along with her two Gorgon sisters, Boa Sandersonia and Boa Marigold. Hancock is considered the most beautiful woman in the world. She has a well-proportioned body compared to her unusual and large sisters. Hancock is a very complicated woman. At first glance, she seems selfish, impulsive, spoiled and always has her own way. Besides, Hancock is a rather sensitive and vulnerable woman, always afraid and worried about other people.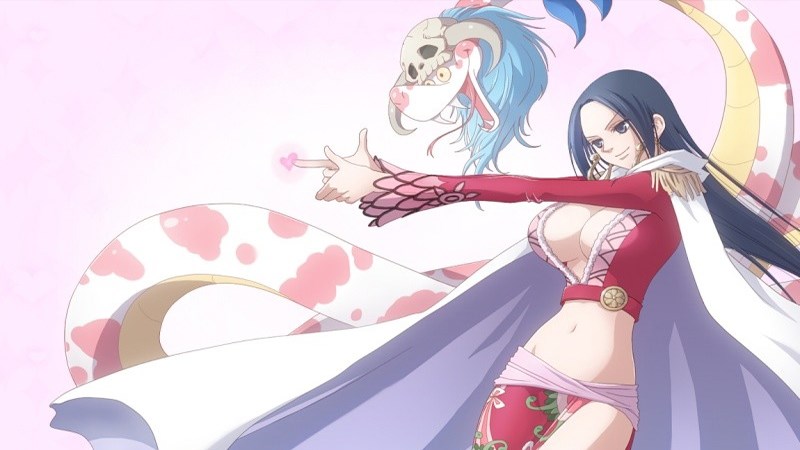 Boa Hancock
Boa Hancock is one of Luffy's greatest benefactors, she successfully protected Luffy infiltrating Impel Down, at Marine headquarters she gave the key to Luffy to free Ace, ready to kill everyone. dare to stand in Luffy's way. She loves Luffy passionately because of his carefree and kind personality.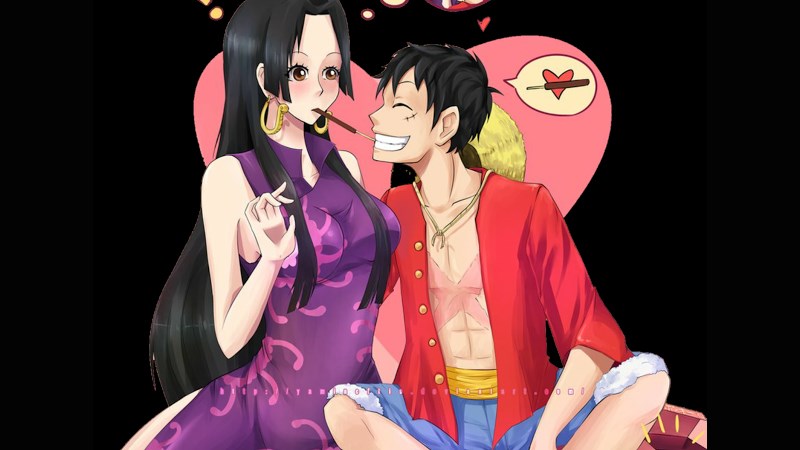 Luffy – Boa Hancock
7. Ace – Isuka
Portgas D. Ace real name Gol D. Ace and nicknamed  "Fire Fist" Ace is the sworn brother of Luffy, Sabo and biological son of the late Pirate King, Gol D. Roger and Portgas D. Rouge. Ace was adopted by Monkey D. Garp at Roger's request before his execution. Ace is the commander of the 2nd division of the Whitebeard Pirates and the one-time captain of the Spade Pirates. Ace is a tall, muscular young man with curly black hair, with meaningful and powerful tattoos.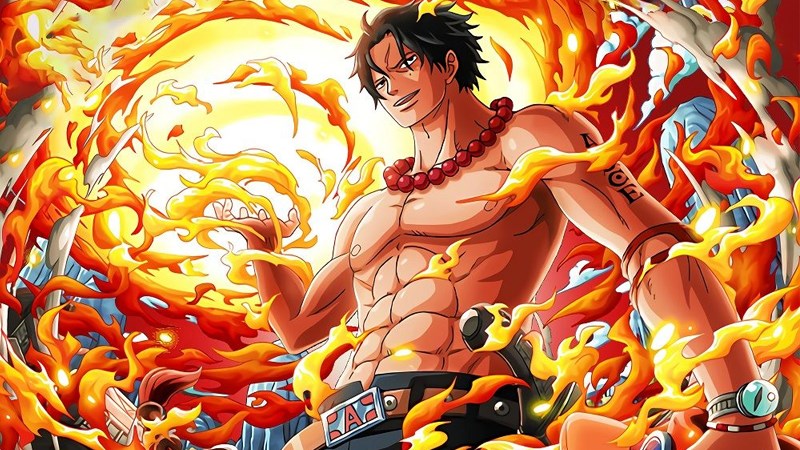 Ace
Isuka is a young woman with short vermilion hair, brown eyes, a scarf on her left cheek and a burn scar on the back of her hand. She usually wears a Marine Corps uniform with a collared, button-down shirt, tie, brown gloves, shorts, and heels. Over her shoulder, she wears a Navy jacket. Isuka is a brave woman with a strong sense of justice and very kindhearted, she always prioritizes saving her teammates and civilians over catching criminals.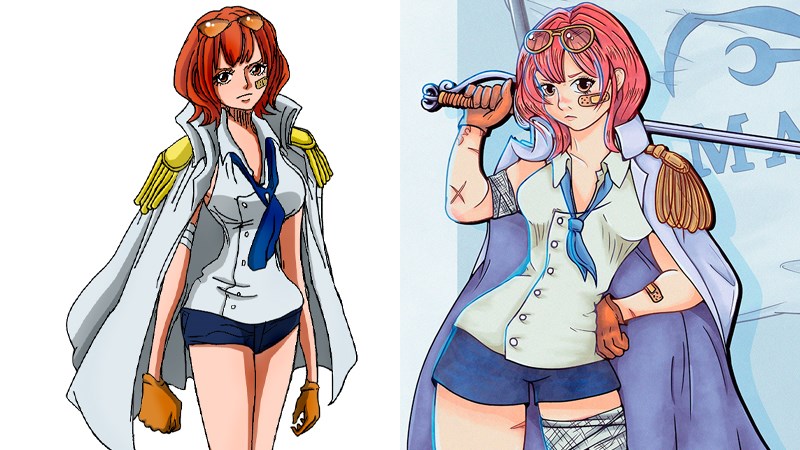 Isuka
The two of them had met each other many times, although they were enemies, they both knew in their hearts that the other was a good person. At that time, Ace's reputation went quite far, which was a potential threat to the government, so he wanted to invite him to join the Seven Martial Seas. And the government sent Isuka to bring the letter of invitation to Ace. Admiring Ace's talent, she asked him to meet to chat and then invited him to join but was refused. Although, both have feelings for each other, but because they are on the opposite side, they cannot come together.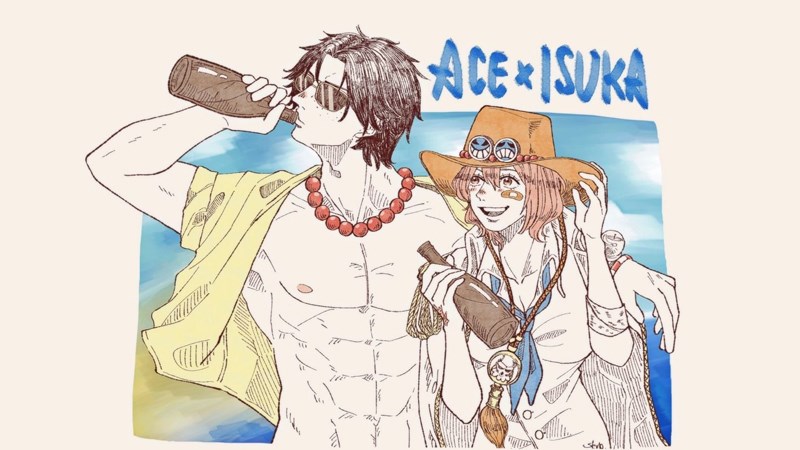 Ace – Isuka
8. Zoro – Tashigi
Roronoa Zoro also known as  "Pirate Hunter" is the swordsman of the Straw Hat Pirates. He is the second member of the crew and the first to join. A master of Santoryu, a style of swordsmanship he created during his childhood training in the village of Shimostuki. Zoro is a muscular man of average height with tan skin. He carries three swords with him at all times, wearing a green haramaki on his right hip, allowing him to easily draw them with his left hand.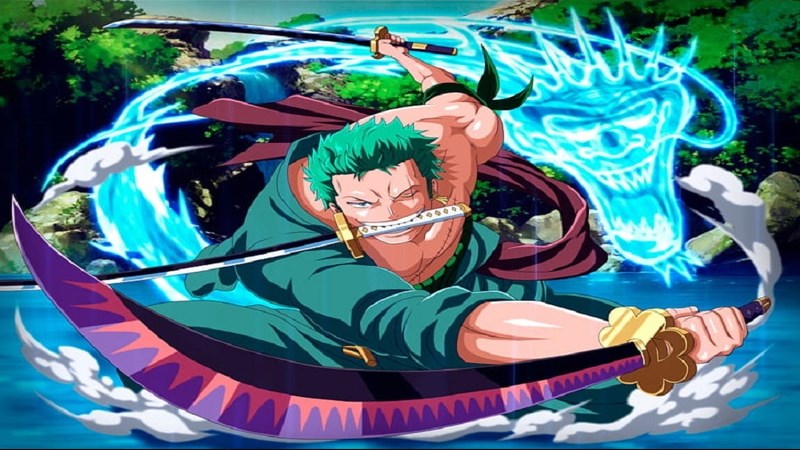 Zoro
Tashigi is a Marine officer serving under Vice Admiral Smoker in the G-5 base. Tashigi has dark brown eyes and long black hair from chin to shoulder. She looks a lot like the late Kunia, Zoro's childhood friend. Her hair is long and is held in place with a clip. She still wears glasses and has a very feminine figure. Tashigi is usually very clumsy, which worries Smoker, but she is brave and reckless when it comes to fighting opponents, whoever they are.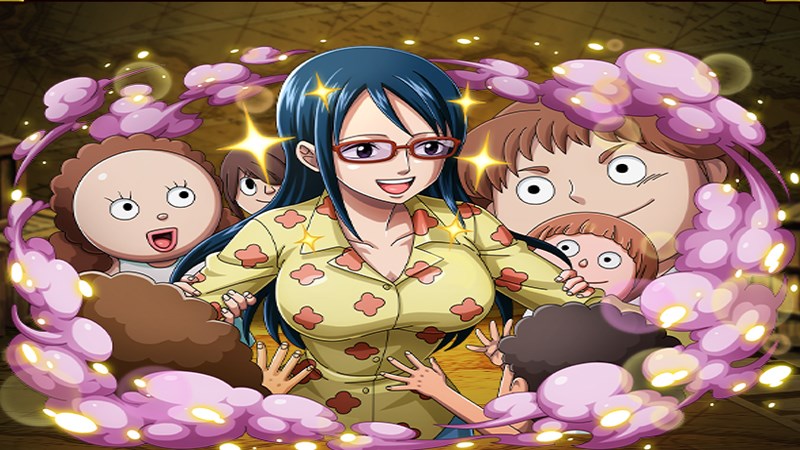 Tashigi
Zoro and Tashigi are both beautiful and talented swordsmen. During their first meeting in the town of Lowthou, Zoro accidentally dropped Tashigi's glasses and when Zoro picked them up, their eyes met like a thunderbolt of love. After that, the two had a walk around the city and talked happily. Coincidentally, the two met again and again, from the chapter alabasta, or the island of ice and fire. Always arguing, teasing, but in times of danger, it was Zoro who helped her.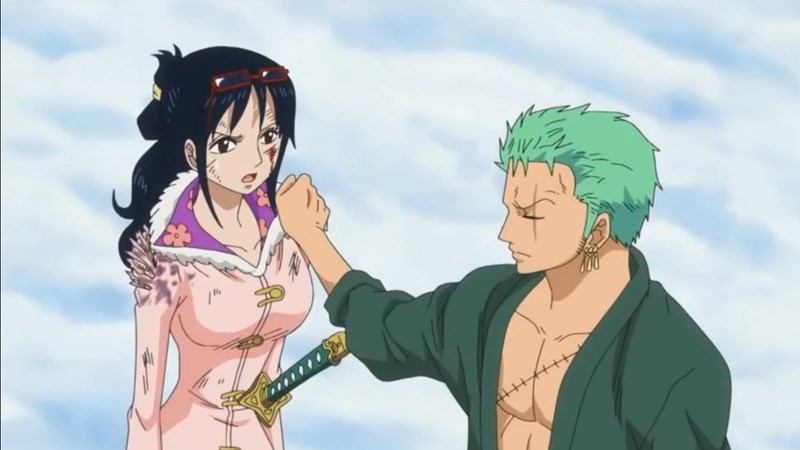 Zoro – Tashigi
9. Mihawk – Perona
Dracule "Hawk Eyes" Mihawk is a world famous pirate who holds the title of World's Strongest Swordsman He is one of the Shichibukai, the first to be revealed and officially introduced, until the group dissolution. His residence is on the island of Kuraigana, where he served for two years as Roronoa Zoro's master during his sword training.
Mihawk is a tall thin man with black hair, short beard, mustache, and sideburns facing upwards. His nickname comes from his distinctive hawk-like red eyes. Mihawk is mostly serious. He rarely smiles, and he has only been seen smiling twice so far. He is proud of his swordsmanship, believing that a name on his sword is a flaw to his pride.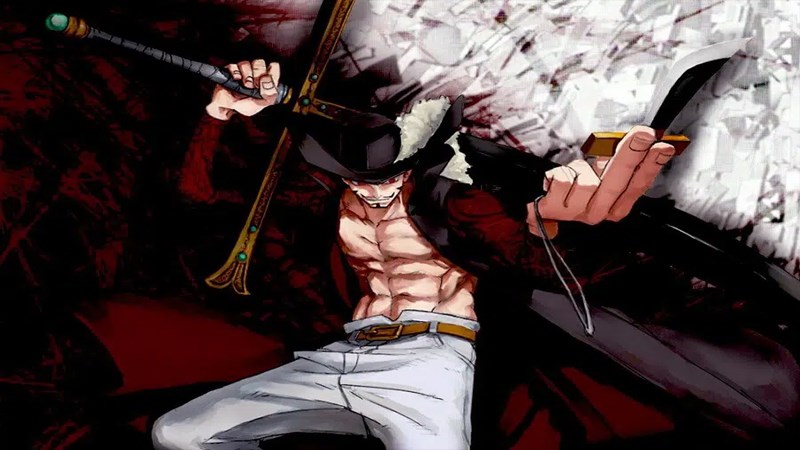 Mihawk
Perona was the former commander of the Thirller Bark Pirates before its demise. She is one of the Mysterious Quartet and one of the main antagonists of the Thirller Bark Saga. Perona is a short girl with unusually large eyes, she has long light pink hair, she usually wears a red parasol that features a cute version of a little devil. Perona is very childish and immature, often acting her own way, she doesn't like people telling her what to do and disobeying her will. Perona in particular loves cute things and will only allow someone to work for her if they're cute.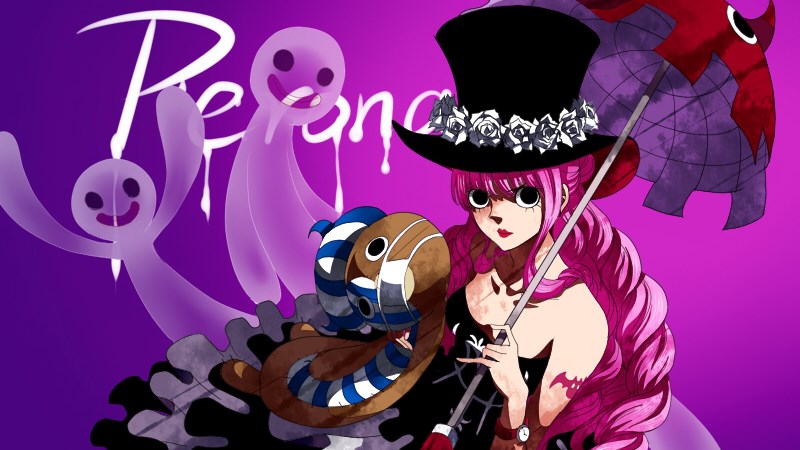 Perona
Mihawk and Perona have been close for 2 years, where Mihawk taught Zoro the sword, and Princess Perona volunteered to take care of the two teachers and students. After Zoro left, they returned to their previous lives, the two still talked to each other, although Mihawk was a bit cold, but in return Perona was very active so the two could make up for each other.
Mihawk – Perona
10. Sanji – Nami
Sanji is the chef of the Straw Hat Pirates, a long-legged man with blond hair combed to the side of his face. Besides, his distinctive eyebrows, both form a spiral but at different ends. His dream is to find the rumored All blue chef's paradise along with their wildlife. He is one of the top four warriors of the Straw Hat Pirates.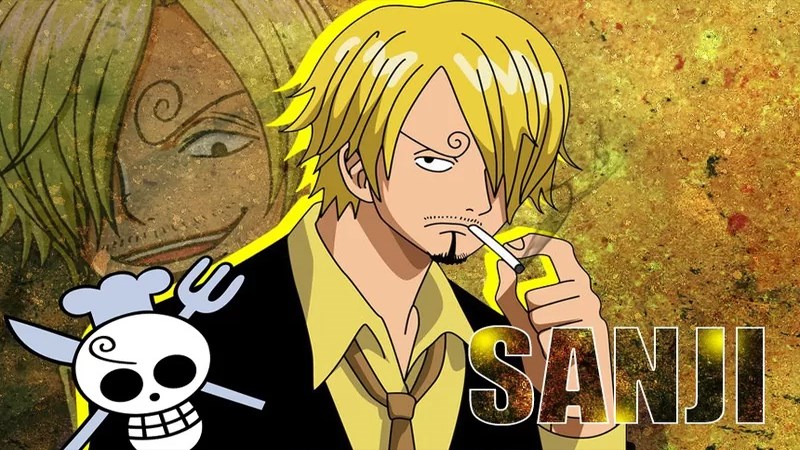 Sanji
Nami  is the navigator of the Straw Hat Pirates. She is the third member of the crew and the second to join. She is Nojiko's adopted sister after they were both orphaned and adopted by Bell-mère. Nami is a young girl of average height with orange hair and brown eyes. Most people commented that she was very attractive or even beautiful. She has a black tattoo on her left shoulder, representing the mikan and pinwheel where she used to get tattoos for being a member of the Arlong gang.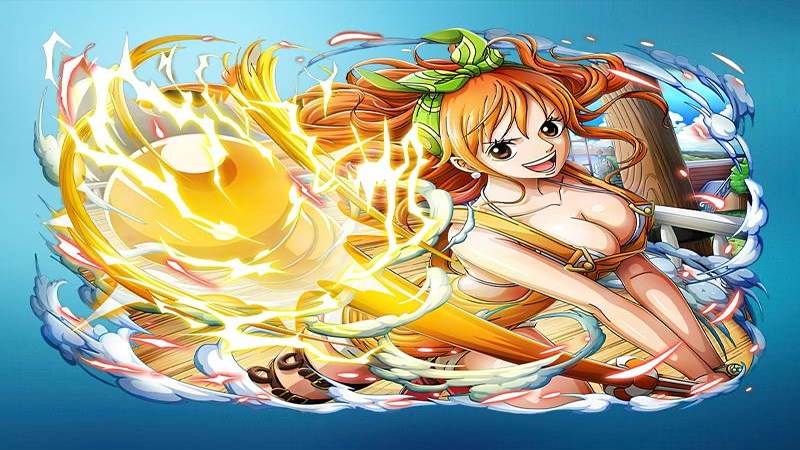 Nami
Never before has anyone treated Nami as well as Sanji, he always pays attention to every little detail of Nami from favorite dishes to daily activities. Sanji also admitted that he made more than 100 dishes from oranges to please Lady Nami, as well as give her the best food. But Nami didn't care, she always gave Sanji a few punches in the head if Sanji did something stupid.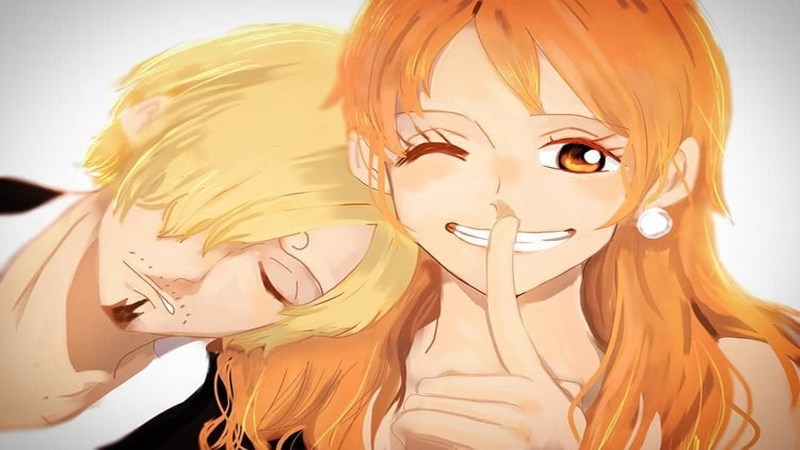 Nami – Sanji
If you are fan of One Piece, you should buy the hottest One Piece Merch here on our website.