Real Magic Cannot Be Captured in Photos!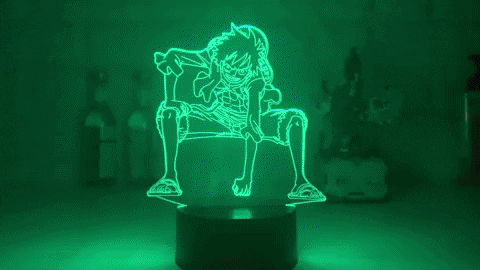 PRODUCT OVERVIEW
The Luffy 3D LED Illusion Lamp is a combination of art and technology that creates an optical 3D illusion and plays tricks on the eyes. From afar, you will see the design, but as you get up close, you see a thin acrylic glass sheet that's completely flat. It's bound to dazzle and impress your quests while always lighting up the room and your lives.
LIGHT UP YOUR ROOM!
Make your surroundings more lively with this 3D LED Lamp. Visitors will be amazed at the illusion that the lamp creates. This lamp is bound to light up not only your room, but also your lives giving you good vibes. Get yours today!
BUILT TO LAST
This lamp is built with good quality materials and craftsmanship. Tested and designed to stress under multiple situations. Engineered to be sturdy and built to last.
 Specifications
Dimensions: 200*150*4mm

Voltage: 5V

Power Source:
Plugs In Outlet With USB Wall Plug & USB Cable

Battery Option For Portability (3*AA batteries, not included)
Remote And Touch

Touch Switch
What's Included:
1x ABS Lamp Base ( size:85*40mm)

1x Acrylic Plate (200*150*4mm)

1x USB Cable (length: 1m)

1x Instructions (User manual)

*NOTE: Please remove the protective films in BOTH sides before use
Get your Luffy 3D LED Illusion Lamp today and save 30% 
Limited Quantity – Will Sell Out Fast!
– – – – – – – –